The Eye of the Fids is cast over the Black Angels chances in 2013!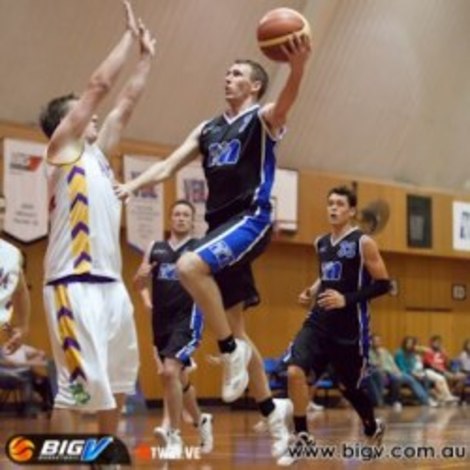 Background:
At MUBC, success at Uni games often translates to success at Big V level.
If that holds true, then we can count on the incoming group of players taking MU back to the top of Division 1, because several of the new faces have contributed to a recent golden stretch at AUG – a gold medal in 2010, top 3 places in 2009 (silver), 2011 (bronze) and 2012 (silver), countless Green and Gold representatives and plenty of crazy shenanigans (that we can't talk about here).
The team have had a successful pre-season, coming second to a stacked Melbourne Ballers team at the Warrnambool tournament, before reversing that result for a first-place finish in Ballarat. Coach Walker is looking for a successful year after a rebuilding season – after 2 championships and 2 finals placing from 2008-2011, the Black Angels slumped to win just 6 games in 2012, but managed to blood some new faces and play plenty of entertaining basketball along the way.
New Faces/2013 Roster:
Nick Masunda is back from a work-related stint in Queensland, and has made a mark since returning.
Other new guards are Tom Stephens (Melbourne Tigers), Callum Repper (Diamond Valley) and Jason Conway (Maccabi).
The big men to watch are Tim Clark (Sandringham), Billy Johns-Teni (Waverly), Jack Railton-Woodcock (Melbourne Tigers), Mason Clarke-Jones and Jovan Bojanic (Sandringham)
Returning from 2012 are Stefan Pomasan, Matthew Anderson and Alex Godina, and all 3 will once again be important parts of the roster for the Black Angels, while Nathan Luke should also be back from injury fairly soon.
Departures:
Center Daniel Leslie has gone to New York for work, while other players from last year including Marty Stockfeld and Matthieu Bardet are taking a year off. 
Musti Erdas and Vukas Pajic are playing elsewhere.
Why this team can win it all...
Quite simple, really – this might be the deepest MU team since the 2004 championship squad, and they can compete in all aspects of the game.
Tim Clark and Jack Railton-Woodcock can control the paint with their size and length, and there is plenty of support from Mason Clarke-Jones, Billy John-Teni, and Jovan Bojanic (as well as an amazing array of hyphenated surnames) to insure the big guys against injury and foul trouble. Stephens and Repper are both athletic guards who will trouble opposition perimeter players with their strength and athleticism, while Pomasan, Anderson and Godina provide support as outside shooters.  Nick Masunda and Jason Conway are the X-factors – both can dominate games from the three-point line, or by getting to the basket, and both can throw down a highlight-reel dunk when they get the chance as well.
As a team, the boys are well drilled defensively and capable of scoring heavily when they get going, and they should be able to match most opposition teams for talent and depth. 
Biggest Challenges and Threats
New group, new faces, new lineup - it always takes a while to mesh, right? With so many new playes, it's might be tough for Coach Walker to settle on a rotation and to keep everyone happy early in the year.
Looking outside the club, it is always difficult to tell where the threats will come from in D1, as the competition is very deep and very competitive, so the Black Angels will have to play well right from the start or risk falling behind. While a few teams stock up on grizzled veterans and build from within, most opposition teams seem to have decided that the way to win is to pay a couple of imports to shoot 30 times each game, while a few young local kids on the bench wave towels. What we do know is that Geelong are always well coached and tough to beat, and a resumption of the fantastic rivalry we had with them in 2010 and 2011 is a strong possibility. Whittlesea had a strong lineup last year, and have added Damon "son of Flash" Ashworth and Michael Petridis, so they also look tough to beat.Beyond that, it gets tougher to judge – many of the other likely contenders (such as Mildura, Warrnambool and Warrandyte) depend so heavily on their imports that making predictions is very difficult until the regular season actually gets started. 
Prediction
With a new roster, much will come down to how the Black Angels mesh as a group, and whether the pieces can all fit in together. As a fairly young team, they'll have to be able to demonstrate consistency in a really competitive division, while dealing with the crafty veterans and imports that inhabit their opponents' rosters.
Assuming that Coach Walker can get around these issues, a further challenge will be the ridiculous one and done playoff system that D1 teams have to endure. Last year, Werribee had a similarly deep group, went 19-3 in the regular season, and then lost a single-elimination playoff game. Quite simply, luck can count for so much – one bad night, or an opposition player heating up at the wrong moment can ruin a season of strong performances.
The boys have more than enough talent to get back to the playoffs. Beyond that?  The 2002-04 group took 3 years at the top to break through for a D1 championship.The 2008-10 team also built up for 3 years to their D1 Championship. We'll just have to wait and see how far the new bunch can go in 2013... but with a young and athletic group, they should be pretty to watch regardless.
The Black Angels kick off their season at Altona, this Sunday afternoon at 3pm. Their first home game is on Sunday 7th April against Whittlesea. For more information on match times, have a look at their season fixture
Want to read more about the Black Angels? Check out their player profiles or take a look at their career stats
Coming Wednesday - Big V Women season preview 2013!