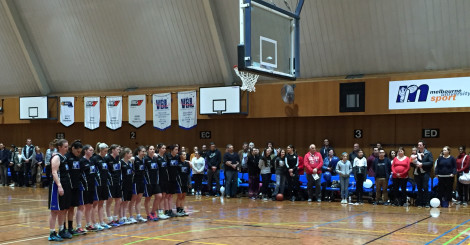 Related Links:
Click here
 to watch a youtube video of the end of the game
Click here
 to watch a short facebook video of the game winning shot by Mel
Click here
 for the Box Score
Click here  for the game video (check back on Wednesday for this)
Click here
 for the Big V Match preview PDF
Click here
 for the Big V TV Match preview video
In their toughest challenge yet, yesterday the 2016 lady Black Angels managed to overcome a 6 point deficit in the dying minutes and snatch victory in game one of their 2016 Big V grand final series against the Casey Cavaliers.
With a raucous crowd of 200 supporters cheering on both teams, this would have to go down as the biggest university win since Norto saved the day.
After romping home by double digits in all three of their previous finals outings against Coburg, Mornington and Blackburn, last night the lady angels were held to their lowest post season total, scoring just 40 points against the #2 ranked defence in the league. 
Made baskets were hard to come by and it was clear that both teams had some nerves affecting their shooting as neither managed to get their field goal percentage above 20% on the night. One performance that did stand out was the junior girls coached by Amanda Anderson stepping up to nail the half time, half court shot challenge and winning themselves a free pizza in the process.
Casey's Tarryn Wilkin was best on court during the game collecting 16 points to go along with 17 huge boards however it was two familiar faces from uni who came up big when it mattered most down the stretch.
With Uni down four and only two minutes remaining to play, Kylie Turnley made a huge 3 point basket that got the crowd to their feet. Casey's Tarryn Wilkin calmly responded by slotting two free throws of her own at the other end.
With 16 seconds left on the clock and Uni down 1, an offensive inbound was awarded and coach Sam called timeout to draw up a play to make a last ditch effort at winning the game.
Leading into the set, Uni captain and league MVP candidate Melanie Fidler was having a tough night at the office, having hit just 1 of 9 from the field. That was all about to change though as the ball ended up in her hands at the top of the key and she attacked towards the basket. Her layup scored and she was fouled in the process sending the home crowd into a state of pandemonium. Casey rebounded a missed free throw and attempted a half court shot but it was all too late and uni escaped with a nail biting one point victory.
Leading performers for the game were:
Tarryn Wilkin (Casey): 16pt, 17rb
Katelyn Leddy (Uni): 10pt, 11rb, 2bl
Kylie Turnley (Uni): 8pt, 7rb
Amanda Anderson (Uni): 6pt, 4rb, 4st, 2bl
Box Score
Games two and three (if required) will be held next weekend at Casey Indoor Leisure Centre
65 Berwick Cranbourne Road, Cranbourne East
7.30pm, Saturday Sep 3rd 
12.30pm, Sunday Sep 4th  (if required)