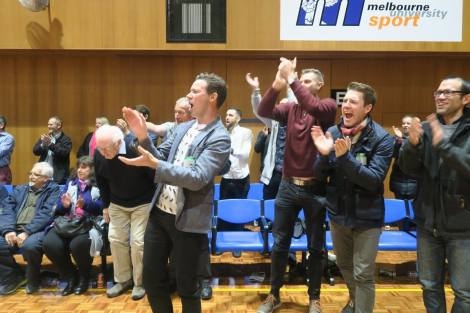 It had been more than 10 years since I'd set foot on the hallowed MUBC timber parquetry.  The ending of a 25 year career of caressing of the leather pill up and down the battlegrounds of basketball courts all over the country was ended abruptly with the taking up of my "professional" cycling career.  It was as if I had cheated on a girlfriend and run off with a younger hotter mistress.
But as time wore on there had been an ever growing pain in my heart that could no longer be ignored.  And like when that ex-girlfriend makes contact with you after so many years of silence, my heart pounded when I got the call from Smoke with the idea of a double header Alumni reunion.  
Well the thought of a chicks and guys game all lubricated with the presence of six decades of past players was like the ultimate offer of a threesome and I was in!
A few weeks out from the big day it was time to prepare. I started trash talking the shit out of anyone who came near me on the bike.  They all started to hear stories about their mums that they had never heard before.  I started yelling at them "you got no legs" and pointed at them as I rolled past saying "I got you now boy".  It was met with some rather strange looks and responses but they were not to know that I was in training for something far more important.
A few days out and the nerves were starting to peak.  The next job was to get into some quality manscaping for I knew I wanted to be at my best for the post game wash downs.  Back in my day it was all about having a jungle bunny down there but I had been keeping up with the trends and I wanted to show the young fellas that I still had game.
And then it came.  Game day!
As is tradition we met at the world famous Clyde Hotel.  Straight to bar I went and grabbed a pot.  WTF!!! $4.50.  What happened to dollar pots?!  
And then the ex team mates started rolling in.  High fives, hugs, gropes and just a general swapping of man love.  It was as if we hadn't missed a day.  A few greys, a bit of recession and a bit more flab.  I felt sorry for the bastards as I still looked a million bucks, but that didn't matter as we had history together and a bond that could never be broken.  The Alumni continued to roll in.  Some from more recent years, others from later ones. Along with the guys there was a magnificent showing of many of the past girl players, and as each one walked in I quickly ran back through the rolodex of memories to try and remember if I had snogged any of them on any of the famous tournament weekends of the 1990's. Unfortunately I only came up with memories of rejections. Got to be in it to win it though I remembered. 
With the vocal chords now lubricated it was time.  Game time!!!  Let's go get the shit done!!!  And so we left The Clyde pumped to the eyeballs and ready to support the MUBC warriors of today.  
Again my heart raced as we approached the MU Sports Centre.  Memories came flooding back as I strolled down Tin Alley to what was my place of religion from 1989 through to 2003.  And then I walked through the front doors and there was only white light and silence.  It was like walking through the gates of heaven.  I was back!  Back to where it all began.  The place that made me the person I am today.
I started the majestic walk up the familiar flight of stairs to where it all took place.  The smells, the sounds, the sights.  They were all the same and as those orangey-brown parquetry floors came into sight I could feel the tears well up.
Then I was simply overwhelmed.  The sight of so many Alumnis next to the champions of today.  After 10 years of abstaining It was all there.  It was like a hit of heroine.  I'm pretty sure I passed out at that point.  But I eventually came to and gazed across the crowd.  SO many greats that taught me the game both on and off the court.  JC, Bowlsey, Trev, Mal, Skippy, Jill and of course the man who was perhaps the greatest influence on all things MUBC, the great one himself….Heno!! 
I took my seat in the all familiar position at the end of the bench in amongst my teammates of Tool, El, Chocko, Wildman, Luce, Lachy and the perennial rookie Norto.  It was like a family reunion of the highest order.  I couldn't have been happier.
The girls were up first and they were quite simply magnificent.  Smoking hot with a game to match.  These chicks were something else.  The game was close the whole way through and by half time the voice was already getting horse.  Our girls were up against what appeared to be a bigger and stronger side.  But by Christ did they bring it to them.  With absolute passion and never before seen aggression our girls took it right up to them.  Taking it hard to the hole, ripping down boards from chicks half a foot taller, snatching balls from their best guards. 
And in the final minutes they took the game from them.  I raised from my seat as the final siren went and clapped and cheered as hard as I could.  I had never been so fucking proud of my beloved MUBC.  
The break between the girls and guys game gave us old fellas a chance to get out there and get in some good old fashion one on one scrimmage.  My god I was shit as rookie Norto sent me tumbling to the floor.  So let's not talk about that but it's all over Facebook if you want to actually see how bad.
Boys time!  And what an honour to be invited into the bat cave before the game to see and hear Coach go through the game plan.  But most of all it was the atmosphere I soaked up.  The smell of pre-game sweat, cheap deodorant and nerves.  The passion, the determination, the will and the mateship.  If only this moment could be bottled and taken out and used in the rest of our world.  It was just the shit!  I wanted to put on a singlet so bad.  But this was their time and I was ready to do my bit from the sidelines.  
Game time!!!!  Let's go boys!  Let's go tear their nuts off!!!!
As is tradition we stood for the National Anthem and again the tears welled.  I was an emotional train wreck at this point. 
Tip off and we were away.  Holy shit bags!  These boys went to war and battled it out like ancient Roman warriors.  I would have died out there.  The opposition had come all the way from the coal mines down in Gippsland and they weren't here to fuck spiders.  They meant business and we had a game on our hands.
For three quarters the teams were trading baskets and then their imports took it to another level and there were signs that they may slip away with it.  So it was time.  It was time for me to sub in.  I had been training for the past months for this precise moment.  It was time for me to do me some talkin'!  And once the chord was pulled and the mouth started there was no stopping it.  Play after play I let the LaTrobe boys have it.  And you could feel it getting under their skin.  Then with so much pride I watched the MUBC boys join in.  Smoke was out there having the game of his life and when he pulled the play of the game and looked me straight in the eye with a fist pump I knew this game was ours. 
And it was.  In the final 8 minutes of the final quarter we dominated at both ends of the court and everywhere in-between.  And with the final siren MUBC were runaway victors sealing the double V for the night.  What a night.
I needed a piss at that point because I had also managed to sink about 42 cans along the way and had been holding back not wanting to miss a minute.
So a quick visit to the pisser.  Then I ran into smoke on the way out. Smoke being my last remaining active link to the past,  I told him how proud I was of him and the boys.  He then did the unthinkable.  He invited me back into the rooms. Well I couldn't have been more excited.  I just wanted to touch every one of them.  
Coach gave his post game speech and one of the best on record.  "This is what it is all about".  Those words will live me the rest of my living days.  I looked at each and every one of them in the eyes and I could see the pride they had for that singlet that hung from their shoulders.  And so they should be.
And finally the coach called shower time.  
Well I couldn't get my clothes off quick enough and I was in there like a flash.  WTF!!??  What's with all these partitions?  In my day it was all open showers.  The way team showers should be. Oh well.  I'll work with what I have.  Back out I walked to see what was taking so long.  I also demanded that they pass me the youngest rookie.  A tradition we had for my 15 year time at MUBC that Liam Norton only knows too well.  
OK so it seemed that perhaps some of the traditions had been lost over time and I ended up showering alone.  Perhaps for the best.
So dressed again it was back to the Clyde and then onto somewhere else and somehow by 4.30am I managed to finally roll into bed.
What a night. Long live MUBC and I can't wait to do it all again.