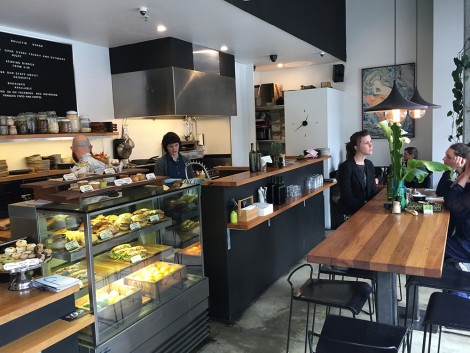 In breaking news, it can be confirmed that club veteran Sofia 'Big Sof' Soltys has temporarily retired from Tuesday and Sunday night basketball with MUBC A grade in order to focus on her new cafe opposite the Victoria market.
Smoke was on hand today for a repeat visit to sample the coffee and lunch menu and was quoted as saying "Far out, best coffee I've ever had. Tastes like someone melted down a cloud from heaven and added frothed milk". He went on to sample the heated eggplant focaccia and noted "Jeez, lucky I don't work on Masterchef because it would be hard for anyone to follow up after this".
Big has been running the cafe with her brother Stefan for the past few months and recently opened up for a very student-friendly happy hour and weekend evening menu.
If you make the short walk after training or uni down to the Victoria Market or night market, do yourself a favour and stop in to say hi, you won't regret it..
All the details including menus, hours and specials are available on Sof's website at:
http://www.francesfoodandcoffee.com.au
PS. Trip Advisor, Yelp, Zomato, Google, Twitter and Facebook reviews are especially welcome from the MUBC crew and would absolutely make Sof's day