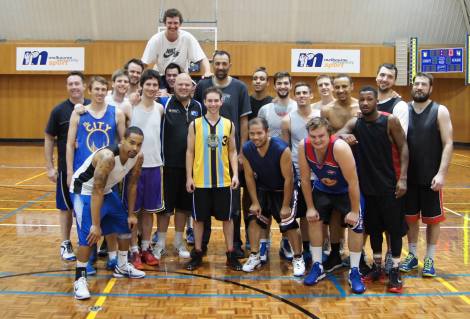 Melbourne University Basketball Club training was graced today with the presence of NBA superstar and sensational bloke Vlade Divac (@bgoodvlade) in a special guest visit to the Tin Alley sports center.
Vlade was very generous in teaching our big men some post game and initimidating the hell out of Tim Clarke's offence during a one on one session.
During his visit, we were fortunate enough to get an interview with the inside word on Kalemegdan basketball, Partisan vs Red Star, the scandalous Sac Kings vs Lakers NBA 2002 finals series and a funny incident involving @TheBobbyJackson.
Here's the link to the interview in all it's glory:
https://s3.amazonaws.com/mubc/vlade_divac_interview_jan2014.m4a
6 minutes, 3.2mb
If you're too young to have heard of Vlade before, here's a highlight package:
http://www.youtube.com/watch?v=svYFaujJ7NY
3 minutes
Or, set aside 1 hour and 20 minutes for this cinematic masterpiece and get worded up on european basketball, diplomatic tensions in the balkans and drazen petrovic, the great european champion to never realise his prime in the NBA:
ESPN 30 For 30 - Once Brothers
http://www.youtube.com/watch?v=zanji1I7Yd4
1 hour 20 minutes
On the note of that sacramento-lakers series in 2002, former disgraced NBA referee Tim Donaghy had some amazing things to say about how NBA refereeing works. He alleges that matches are fixed in order to generate as much income as possible for the league. This book excerpt is absolutely unbelievable:
http://deadspin.com/5392067/excerpts-from-the-book-the-nba-doesnt-want-you-to-read
Enjoy!