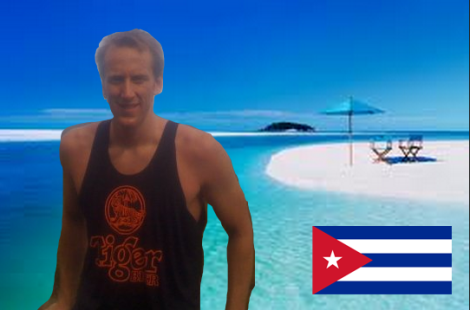 In last nights VBHBA A grade mens nail biter between second placed T Roy Brown and sixth placed Melbourne University, one thing was clear. Baskets were valued at a premium.

Still struggling with a two week old hangover, Karl Edwards was heard regurgitating vodka remnants from Raef's bucks party in the change rooms before the game.

In the absence of captain Raef, warmups were a tenuous affair with Tommy missing a layup and Adrian yet to arrive having placed his coaching career before his playing career.

Sam was heard to mention that he really liked the contrast of the white on black uniforms outfitting the opposition whilst Sander countered that they may look pretty but they smelt like they hadn't been washed  this year.

After a hard fought and low scoring first half, uni was in the game with the scores tied 14-14.

The second half opened as per the first. In Raef and Woolrich's absence, university failed to connect on a single 3 pointer.

Tommy kept the scoreboard ticking over with floating layups and Sammy continued to defy logic with his athletic rebounding over and above the T-Roy tall timber.

With the game going down to the wire and the clock ticking down, davro physically jumped over a referee to swat a crucial T-Roy bucket over to the next court.  He was quoted later saying "that was probably more of a foul". It remained uncalled.

One minute to go and university down 2, the ball ended up in the hands of Jamie 'The Great' Gorton. Avoiding defenders left and right, Jamie was heard muttering to himself "F**k this, The Great Gorto ain't losing this one" as he launched a sure-footed shot towards the basket.

To the jubilation of a scorer and two guys warming up for the next game, the basket dropped. T-Roy Brown were so deflated they failed to make a proper attempt at a game winner and the buzzer sounded with the scores drawn 30-30.

After the game, a referee came over to congratulate the great gorto on his heroics. He humbly accepted the adulation and proceeded to the bench to untie his lucky shoes and think about his post game meal.

The university team remains 0-0-1-0 in Raef's absence and it is hoped he won't be recruited to a Cuban league where his 3 point shooting would be sorely missed.

* This reporter was not physically at the game. All occurrences mentioned may bare no official resemblance to events described and any similarities to real life events is purely coincidental.