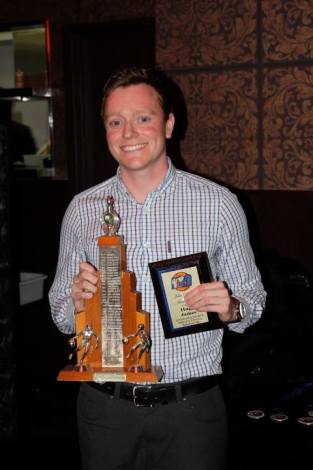 Thank you so much to everyone who came on Saturday night and helped celebrate the achievements of our club.

There is a photo gallery on Facebook (click here) - just add me as a friend if you are unable to view them, but I think I made them public. Feel free to tag and share with your friends.

Thank you to Pop Resturant for being so accomodating and giving us a fantastic deal, which meant we could all enjoy a bevvie or three without hurting the wallet ;)
Big Thanks to:
James for being MC
Anj for helping on the door
Rhia, Pete, Bazil and Walker for helping present awards

Without you the evening would not have gone so smoothly!

The list of award winners are below. If you were not in attendance on Saturday night, we assume someone has your medal somewhere! You will most likely be able to pick it up at training.
John Bayliss Award – Hugh James
Life Membership – Scott Cuffe
Best First Year Male – Tom Stephens
Best First Year Female – Alex Prentice
Henry Cooper Award – Nick White
Coaches' Award (Female) – Kate Coffey
Most Improved Male – James Shaw
Most Improved Female – Caris Lockhart
Distinguished Service Award
Jason Kotchoff
Mark Farag
Phil Verocchi
MVPs
Big V Men – Nick Masunda
Big V Women – Claire Edwards

CYMS Women MVPs
MU1 – Kylie Crowley
MU2- Meaghan Helms
MU3 – Charlotte McNamara
MU4 – Jan Wong
MU5 – Sarah Cheong
MU6 – Sarah Chiappa
MU7 – Claire Kelly
MU8 – Caitlin McClelland
CYMS Men MVPs
MU1 – Raef Akehurst
MU2 – Dave Lee
MU3 – James Shaw
MU4  - Samuel Tolomei
MU5 – Koki Oka
MU6 – William Dai
MU7 – Ben Ponte
MU8- Masaki Sai
MU9- Stephan Flumm
MU10- Lazar Dusanovic
MU11 – Ben Guo

Tuesday Night Men and Women
A Grade Women – Caitlyn Hallet
B Reserve Women – Rebecca McQuillan
A Grade Men – Paul Mason

Thursday Night Men and Women
A Grade Women – Caitlin Delahunty
A Reserve Women – Amanda Douglass Parker
A Grade Men – Tom Oppenheim
Big V Milestones
50 Games – Mason Clarke-Jones
100 Games – Caitlin Delahunty
 
Social Awards (Please correct us if we have these wrong - details are a little sketchy)
Best Box Head: Billy
Best MUBC Club Moment: Talia's 9pm Spew at Trivia Night
Best Boy/Girlfriend: Pete
Best Bottom: Bozzle and Claire - not sure who won the Twerk Off