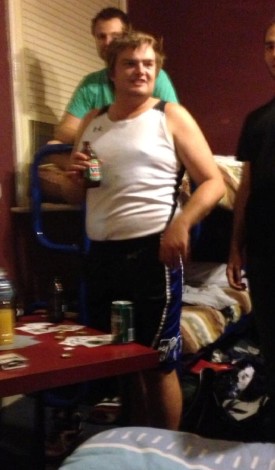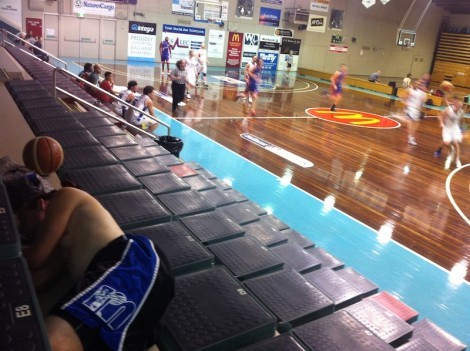 A Melbourne Uni baller participating in the Ballarat tournament is much like a climbing enthusiast mountaineering without oxygen – all the thrills of what you love with an exhilarating head rush of insanity. Initially you set out to ascend to First Place Summit intending to employ immaculate sleeping and eating habits. However as you climb higher, the air gets thinner, Bluestone peak becomes closer and your judgement deteriorates rapidly. Not only do the Sherpas of common sense abandon you but you become increasingly distracted by the allure of a glacier of drunken antics before crashing to sleep in an often surprising location. Upon awakening, you are greeted with an irksome hangover at a needlessly early hour to attend your game on time. While the euphoric heights of victory are to be savoured, all are welcome to rendezvous every evening at the warm, oxygenated Pre-Drinking lodge to repeat the process for another two nights in fine company.   
Apologies for the ridiculous analogy, but I really couldn't help myself. In short, Ballarat was brimming with good times and not coming is as regretful as being matched up on a hot Nick Masunda. Ok, I'll stop there.
On court we received a mixed bag of results. The A grade men's sides were confined to such a fate as two thirds of the A-Grade competition were Melbourne University associated teams. The Big V men took out the grand prize going through the weekend undefeated. They comfortably accounted for Scott Cuffe and his 'Melbourne Ballers' in the grand final and across the tournament they regaled the audience with their artifices and breathtaking play. J-Con, Tom Stephens and Masunda were typically highlight-reel-ish but every player made significant contributions to the team's success. MU 3, comprised of wily veterans such as Smoke, Fids and JT performed admirably and took the Big V men to the wire in their match up.
The Big V men also demonstrated they could produce basketball at the other end of the spectrum. A most comical passage of play began when Alex had stolen the ball and upon approaching the basket wasn't sure whether to lay it up or throw it down. Instead he did halfway between and missed a floater-looking thing. Repper, obviously disappointed he wasn't able to do his ferocious daily workout routine, took the opportunity to hang on the ring, attempted to collect the rebound and while performing a chin up place the ball back in the ring. No tech foul was called, so Callum then landed on the ground, picked up the loose ball, travelled, and passed it to Tim Clark who sailed through the key and threw it down to complete the atrocious display of fast break basketball. As Philpott would say, "A to B". And 2 points were scored. Tim also managed to face plant when trying to walk to the scorer's table to score the game after. I must emphasise there were no obstacles in his way. Fortunately, Jovan demonstrated how to dunk in a different game.
The C-Grade men also fell agonisingly short of a finals birth but encountered some oddly familiar opposition. Warrnambool veteran Bobby Cunningham and what appeared to be his children formed a team and in their bout Bazil bravely took it upon himself to man the former Big V legend (for those who are unaware, Bobby is a 6'5ish American who has made his living through basketball). Such courage is indicative of Melbourne Uni basketball. From what I hear Damo and Pete feasted upon any scrappy points on offer but the side suffered from the loss of Bernie "Captain Core Strength" Thomson who was elevated to the MU 2 side. Also, a shout out to Phil and new recruit Andrew for putting up with my many cricket rants throughout the weekend – someone had to hear them.
As is often the case in regional tournaments, the C-Grade women's competition was stacked with Big V quality players. While our ladies, who featured tournament stalwarts such Big Sof, Joey, Anj, the Naughtons, Amanda and Caitlyn Hallett performed admirably, they fell short by a hair's breadth in their quarter final showdowns.
Off-court was characterised by a typically potent cocktail of pre-drinking fun, bluestone antics and heroic exploits. Billy "One-Gear" Johns-Teni was so feared by the bouncers at Bluestone that they politely asked Walker if he could ask him to leave. Billy was kind enough to agree and with much trepidation, six bouncers escorted our gentle Power Forward from the venue. Bozzle and Tim Clark were highly sought after by the ladies, which is to be expected. I found myself the target of a psychotic man named Steve, who I was accidentally calling Sam, on the outskirts of Ballarat and eluded him by sitting on a nature strip (I read some Wikipedia articles on the Northern Mali conflict to keep myself occupied for the 15 minutes for Steve to storm off), all at 4AM. In the pre-drinking boat races, the men beat the women after they (well, mainly Jen) continually boasted their triumph from the year before. Also impressive were the efforts of Rhia, Mel, Caitlyn, Claire and Trina to come all the way from their Frankston pre-season tournament to join us for the final evening's proceedings.
The Big V men's accommodation wasn't quite the chimera our initial impressions made it out to be. Although the rooms would transform into saunas by night, the manager, Darren, couldn't possibly be more absent and unsuited to customer service, the employees downstairs often appeared stoned, an odd monster-shemale hybrid slept down the hall and the living area was about two square metres and its walls were adorned by a horrific painting, the cosiness allowed plenty of bonding time and enjoyable relaxation.
Conversely the women had an incredibly spacious apartment with a majestic balcony and an indescribably comfortable carpet. Pre-drinking was a nightly feature here and I must applaud our lovely ladies for their magnanimousness (Pre-drinks at our poorly constructed torture chamber would've been shambolic at best). Anj was also generous enough to provide us with red novelty cups.
It was clear that the Melbourne Uni spirit was again intimidating at the club and on the court, as players between games would flock to support their fellow MU Ballers during their matches. I hope to see this spirit continue throughout the Big V season and social events as plentiful good times are on offer!
Quotes of the tournament:
"Bozzle must wake up every morning with a headache…he is sleeping downhill with that booty of his!"
-          Simon, in the midst of a half hour discussion on Bozzle's posterior.
-          Big Jack is unimpressed by our manager's customer service.
"B 
From our inspiration, Jacob Philpott:
"Sticky date pudding is that good it's f***ing ridiculous." Needs no context.
"Here's some food for thought…both teams are going to be playing in exactly the same uniforms."
-          On the impeding bout between MU 2 and MU 3.
"That was the most space-cadety play I've ever seen."
-          Running past the bench after Jovan caught the ball on the wing, dropped the ball in between his legs, spun around twice, and once he worked out where he was his player had scored at the other end.
"Im off ya."
-          Said to anyone he disagreed with.
Did you enjoy this report? Check out the restored version of the Ballarat tournament report from 2002!