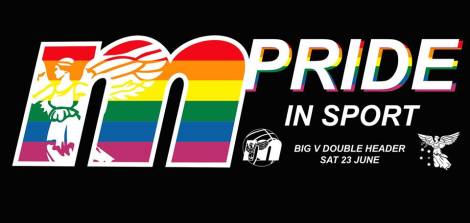 What does pride in sport mean to you?
At Melbourne University Basketball Club, pride in sport means that everyone is given a fair opportunity to participate in basketball without fear of harassment or exclusion. It means everyone is welcome at our club, no matter their sexual orientation and/or gender identity AND it means we are proud of our LGBTIQA+ members, supporters, alumni and peers.
That is why on Saturday June 23, in collaboration with Melbourne University Sport, we are hosting a Pride in Sport event during our Big V double header. Come and join us for an exciting night of basketball, celebrating our LGBTIQA+ community and raising awareness of the need for acceptance, equality and more inclusive spaces in sport and fitness.
Date:                    Saturday June 23
Time:                    Doors Open @ 6pm
        D2 Women Tip-off – 6:30pm
                            D1 Men Tip-off – 8:30pm
Venue:                  Nona Lee Sports Centre, University of Melbourne, Tin Alley, Parkville
Entry Fee:             $8 ($2 kids under 15 & $5 for MUBC members)