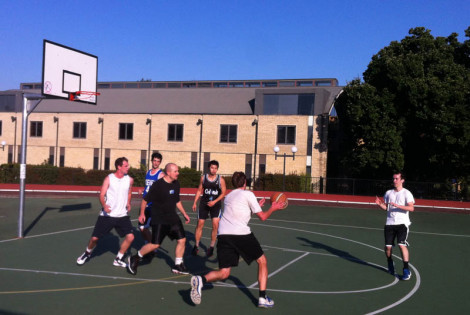 Lil' Troy once said:

"I wanna be a baller, shot caller,
Twenty inch blades, on the Impala
A caller gettin' laid tonight,
Swisher rolled tight, gotta sprayed by Ike." 
And so it was at men's training last Saturday morning…Streetball.
A time to embrace ebonics, flashy ball handling, 3 foot blunts and trash talking.
It would be fair to say that the aforementioned characteristics aren't typically associated with the Melbourne University Basketball Club, but with Smoke leading the charge, a group of 10 men headed to the outdoor courts and embraced what it is to be a street baller.
It should be pointed out at this stage that Streetball was necessitated because Sean Powell snapped the key off the lock to lower the sports center rings. Mad props old mate.
Upon arrival at the courts, Smoke eagerly launched into stories of his time "haulin' ass" across the land of flags and anthems, otherwise known as the United States, playing Streetball.
For 3 months he drove what he cheerfully described as a "shitbox" from Washington to Los Angeles, from Chicago to Miami, and every town in between, to take on America's finest Streetballers. 
The highlight of the story, which conservatively lasted for somewhere between 2 to 4 hours, was a short but eventful stop in Memphis, Tennessee.   
Smoke's time in Memphis started with a visit to Graceland, the home of the late Elvis Presley.
It seems that he had received some poor advice from a well-intentioned junky called Darlene who volunteered at the Memphis Tourist Centre. Darlene advised him that the most likely spot for some Streetball in Memphis would be at Graceland – "hell, everythin' else goes on at Graceland, gotta be some Streetballin' too don't there?"  
It didn't take long for him to realise that his chances of playing Streetball at Graceland were approximately the same as Elvis appearing and doing a line of coke off the neck of his guitar.
Shortly after reaching this conclusion, he spotted a 7 foot tall African American sporting a pair of Air Force Ones and looking bored – clearly a baller.
The two got talking and soon Smoke was driving to a place called Halle Park.
Halle Park is a group of outdoor basketball courts next to East Memphis Police Station in, you guessed it, East Memphis.
In a sketchy kind of city, East Memphis is the blue ribbon area for sketchiness. Everyone owns a piece and knows what to do with it.
What sets Halle Park apart from other Streetball courts in America is that the action is 24/7/365.
When the sun goes down, the lights come on and play continues through to dawn.
It took Smoke awhile to get some homies to team up with him, which wasn't entirely surprising considering he was the only white person within a 50km radius of the courts, but once he was brothered up, he held court for 3 days straight, stopping only to eat, piss and smoke blunts.
A film crew turned up to capture the event on camera, and a documentary is currently in production titled "Smokin' it up at Halle Park". Apparently Z-Bo makes a cameo appearance in the doco.
Once the stories completed and the Melbourne Uni Streetballin' began, the action was fast and furious.  
Anyone shooting a jump shot was quickly derided "get to the ring, this game is about good handles, slick moves and getting to the rack. Don't be bringing your Euro-trash styles into this house". 
As it turned out, Smoke's team didn't fair so well in the overall scheme of things, going down in their first contest and being condemned to playing "Hunch" (the West Coast name for 21 or King as it is otherwise known) at the other end of the court, looking on as the true Streetballers of Melbourne Uni plied their trade.
Streeball was a nice change to the indoor action that usually takes place at Saturday morning trainings, and something that should be revisited in the near future, if only to hear more from Smoke about his time haulin' ass through the States playing Streetball.  
Editorial Note:
There were certainly a few liberties taken here. Compare it to the original blog post:
http://www.kangarooit.com/streetball_blog/2006/06/halle-park-memphis.html

Halle park (view map in full screen):


View Larger Map